Electrohype 2000 SPACE utställning
Electrohype utställningen SPACE visades datorstyrda installationer, CD-rom-projekt, interaktiv film, interaktiva möbler mm.
Verken var fördelade på olika rum i centrala Malmö: Stadsbiblioteket, Galleri Rostrum och Kajplats 305.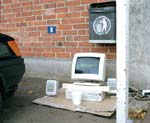 Följande konstnärer ställde ut på Electrohype Space:
Thomas Broomé, Sverige
Sashiko Hayashi, Sverige
Magnus Wassborg, Sverige
Mattias Karlsson, Sverige
Johannes Nyholm, Sverige
Kristin Bergaust, Norge
vanGogh, Danmark
Kjell Yngve Petersen och Karin Søndergaard, Danmark
Adam Riishede, Danmark
Sebastian Campion, Danmark
jodi, Holland/Belgien
Vuk Cosic, Slovenien
Alexei Shulgin, Ryssland
Chris Hales, England

Electrohype 2000 SPACE Exhibition
At the Electrohype exhibition SPACE, computer kontrolled installations, CD-rom-projects, interactive film, etc. where shown.
The works where on display in different localities in central Malmoe: the Public Library, the Rostrum Gallery and Kajplats 305.
The followimng artists was exhibited
at Electrohype SPACE:
Thomas Broomé, Sweden
Sashiko Hayashi, Sweden
Magnus Wassborg, Sweden
Mattias Karlsson, Sweden
Johannes Nyholm, Sweden
Kristin Bergaust, Norway
vanGogh, Denmark
Kjell Yngve Petersen och Karin Søndergaard, Denmark
Adam Riishede, Denmark
Sebastian Campion, Denmark
jodi, Holland/Belgium
Vuk Cosic, Slovenien
Alexei Shulgin, Russia
Chris Hales, United Kingdom